Lead IT, Lady - meet Grand Parade colleagues that participate in the programme!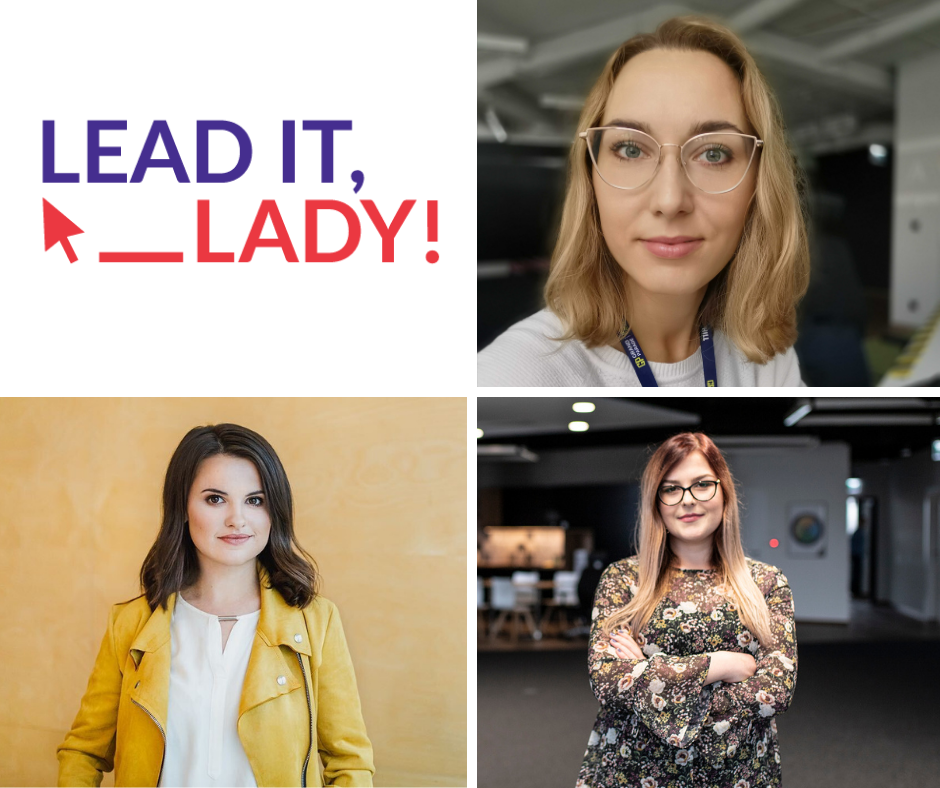 Do you remember the leadership development initiative that we organise along with Women in Technology Team - 'Lead IT, Lady'? The programme is in a full swing now! Recently we had a chat with colleagues involved in running workshop modules and supporting mentoring activities. In case you've missed it, you can view it here and here.
Today we'd like to focus on 'the other side' of Lead IT, Lady - spotlight on programme participants!
Let's start from sharing some numbers - more than 250 women applied to the programme. But as the number of spots was limited to 15 only, organisers had to evaluate all applicants in the recruitment process. As a result, 15 future female leaders were chosen - with 3 Grand Parade colleagues among the group: Paulina Kantor, Ewelina Hojdyś and Magda Gądek-Krzywodajć. 
We've caught up with them to ask how it's going so far. Read on!
Hey! Can you tell us a bit more about you and share your career story?
Paulina: I'm Senior Software Developer in Trading Channel. I have over 6 years of experience in software development. I started my career with an internship as a helpdesk employee in one of the IT companies, then I was a tester for a while, and then I decided on a development path. I worked in small start-ups and large companies then joined GP 1.5 years ago. After hours, I sometimes teach people to program Java in one of the bootcamps. In my work, I really like when my work has an impact and when something I create really makes a difference. I also like working in a team because I believe that together we can do amazing things.
Ewelina: I'm Senior Java developer in Eldorado platform team in Gaming channel. Before joining Grand Parade I was working at two companies. Firstly, I was working for the telecommunication industry, where I had an opportunity to learn IMS and 3G networks. In the second company I was working on the product for airlines, that could be used for modifying crews schedules.  2.5 years ago I've started my adventure in Grand Parade and I joined Gaming shortly after that.
Magda: Privately – happy owner of chihuahua, professionally – Business Analyst in Tennis Trading channel. I used to call Business Analysts 'wizards of communication' as on a daily basis what we usually do is to talk with the business, talk with product owner, talk with the developers and testers and many other stakeholders in order to gather the most accurate requirements that Dev Team will further work on. I currently support a very interesting project, which is the integration of new feed provider for major Tennis events, I must say it is really exciting stuff!
About my career story: From English lecturer to Payroll & Documentation Administrator to beloved Business Analyst role. Work in the fast-paced, non-repetitive environment, with many unknowns, has always brought me a lot of pleasure. Having done some small projects within the Documentation team, I soon discovered that this is it! I applied to the internal 4-months training programme in Change Management department as a Business Analyst and now you can see the results – 4 years later I am still working enthusiastically in projects!
What motivated you to apply to Lead IT, Lady?
Paulina: As I mentioned, I like to make an impact, but I also like sharing knowledge and helping people to be better at what they do. I was also wondering what the next step in my career should be, and then this program appeared - did I decide to see if I could become a good leader someday.
Ewelina: I decided to apply to find out what it means to be a good leader. Participating in the program gave me the opportunity to meet amazing, experienced people who want to share their knowledge.
Magda: I have been working in IT for the last 4 years and I can see that it is still being seen as male-domain. My impression is that women are feeling slightly less confident in this area, thinking that they might not have enough technical knowledge or that they are not experts. I would like to change that! IT leadership is not only about being an expert in programming, is also about how you build your team, how you care about it, how you communicate, how you plan… When I found out that WiT is rolling out 'Lead IT, Lady', I did not hesitate and applied – there's nothing better than learning from those experienced and meeting other IT-oriented ladies! 
How the programme has been so far?
Paulina: Almost 1.5 months have passed since the program started, but I have already learned a lot! We had a Gallup talent session where I learned how I can use my natural strength to become a great leader. Also the session on public speaking and presentations was really helpful. I look forward to the next sessions - in November our calendar is full :)
Ewelina: I met many inspiring people here. It's still the beginning of the adventure and I can't wait for the next sessions.
Magda: One word to describe it – fantastic! We have a couple of workshops already that were just 'pure' practise, not theory. For instance, we had a session on 'Public Speaking' with a professional actor and public speaking trainer, who watched our presentations and later together with the whole group gave us feedback on what was good, what can be improved, etc. Did you know that your room background during online meetings can distract your audience so much that they will not be listening to you?
What does leadership mean to you?
Paulina: For me, leadership is about helping people achieve their goals. It's not about saying what to do, but rather about making your work easier by removing obstacles, keeping morale high, motivating, and perhaps most importantly - showing the right direction. I'm glad that in the company I have many examples of excellent leaders to get inspiration from. I hope that Lead IT, Lady will help me to become one someday :)
Ewelina: For me, leadership is about motivating and supporting the people you work with to achieve common goals and implement the company's vision.
Magda: To me, leadership is an attitude and service. Attitude to deliver what is required and service to your team. Good leadership allows you to make people grow, while bad acts exactly the opposite. Good leadership inspires the people and makes them more willing to try new things, more open. It requires great listening skills, patience, creativity and assertiveness, but it all pays off – with the satisfaction of your well-functioning team delivering successful projects.