In conversation with Grand Parade team involved in Lead IT, Lady!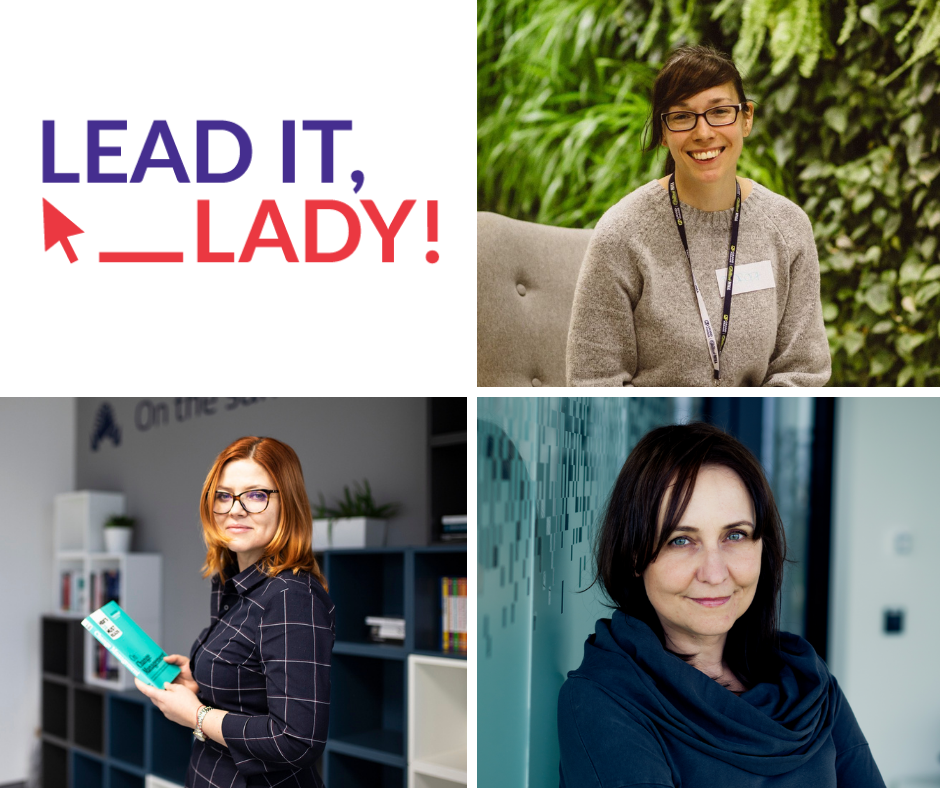 You have already heard the news about the leadership development initiative that we organise along with Women in Technology Team - 'Lead IT, Lady!'. The programme is in a full swing and we've got a lot of exciting updates to share with you so watch this space! 
Today had a chat with colleagues involved in shaping and running workshop modules and providing mentoring support - Luiza Lipien, Ludmiła Boryło and Dorota Sternalska and asked some questions about the programme, why they decided to support it and talked about the value of mentoring relationships. Read on!
Why did you decide to support Lead IT, Lady! programme?
Luiza: I decided to get involved in Lead IT, Lady! Programme because I believe that 'the growth and development of people is the highest calling of leadership'. As a leader, coach and trainer I love to share my experience same much as learning from and getting inspired by others. Being a part of Lead IT, Lady! The programme gives me both possibilities. Moreover, I may give back to others what I learned from my mentors years ago. I have already had an honour to open the Program and take participants on the exciting journey of exploring their natural leadership competencies and personal talents.
Ludmiła: Training and supporting others in their learning journey is what drives me a lot (especially when I see there is a need and willingness). When I was offered to lean in and conduct the workshop on Feedback as a part of Lead IT, Lady! programme, it was very easy to say "yes" :)
Dorota: I think that it is a great initiative! I really like learning and I love sharing my knowledge. Some people say that you can learn the most by teaching and supporting others – I agree with that. I run two workshops during the programme and I am a mentor as well.
Have you ever had a mentoring relationship or took part in a leadership programme during your career? Did you find it valuable? 
Luiza: I have had many mentors during my career so far. I was so lucky to meet a lot of knowledgable and wise people who wanted to support me on my way when I was a newbie. There were informal mentoring relationships with colleagues of mine that I could learn from. At work I had various role models I could observe, follow and admire. In addition, I participated in a few formal leadership programmes. I have also been in several coaching processes, which I strongly recommend because, as it turns out, we can learn lots of things from inside of ourselves too.
Ludmiła: Having a mentor is a great way of self-development, I've been using it a lot. This is something you take advantage from and then you give it back, that's the magic loop of sharing the knowledge. In one of the previous jobs, I took part in the Employee Leadership Programme, during which we had a comprehensive analysis of our MBTI types and preferred conflict resolution strategies (according to Thomas Kilmann model). I found it very useful in my further career.
Dorota: I've had one formal mentoring relationship and a few informal ones. I had a pleasure to work with great leaders who inspired me and were role models for me. I took part in coaching sessions regarding developing my strengths. It was a great journey and I learned a lot about myself. I participated in a few leadership programmes and training as well – as I said at the beginning, I really like learning ;)
What's the best piece of advice you ever received during your professional career?
Luiza: When I started my managerial career, I had moments when I felt blocked or overwhelmed with overthinking and endlessly analysing options I could take. One of my mentors taught me to cope with this 'overthinking mode'. She used to ask me: 'What is the worst thing that might happen out of that? What are you afraid of?' She showed me that I was trying to anticipate unforeseeable risks, that sometimes those threats were only in my head. She taught me to let it go and trust myself, in my own judgment.
Ludmiła: I wonder between two pieces of advice, which I find equally valid and universal: "Who doesn't take risks, never drinks champagne" and "Embrace the change, it's the only certain thing in the world". We're living in such dynamic times, the sooner we'll treat changes as a natural part of our lives, the better for us.
Dorota: Celebrate success and learn from failure. When I started my leader path I was afraid of doing mistakes, I wanted everything to be perfect, when I wasn't sure I didn't want to take a risk of failure. And one of my managers told me then that mistakes are part of the job, the most important thing is to analyze them and learn from them. I won't be completely sure of all decisions because I don't know what the future brings.
What is one piece of advice that you'd like to give to women who would like to boost a career in a leadership role?
Luiza: Don't think about being different, don't think about the gender difference - even during another meeting when you are the only girl in the room. It does not matter. Trust me, I was there. What matters is the question if you are in the right room – is this room the best one you can be in?
Ludmiła: Rather than focusing on your weak points, use your strengths, build them up and do it consciously.
Dorota: Have a courage to be yourself. Sometimes you can feel that you are the only one who thinks differently – have a courage to speak up. Trust your knowledge and your instincts.
We also already had a chat with Grand Parade colleagues who decided to mentor future leaders in Lead IT, Lady programme - Agnes Zielinska, Barbara Jurak, Aneta Kwiatkowska and Kasia Osuch-Bukowska. If you would like to check the article, navigate here.