Behind the Bet with Jose Ferreira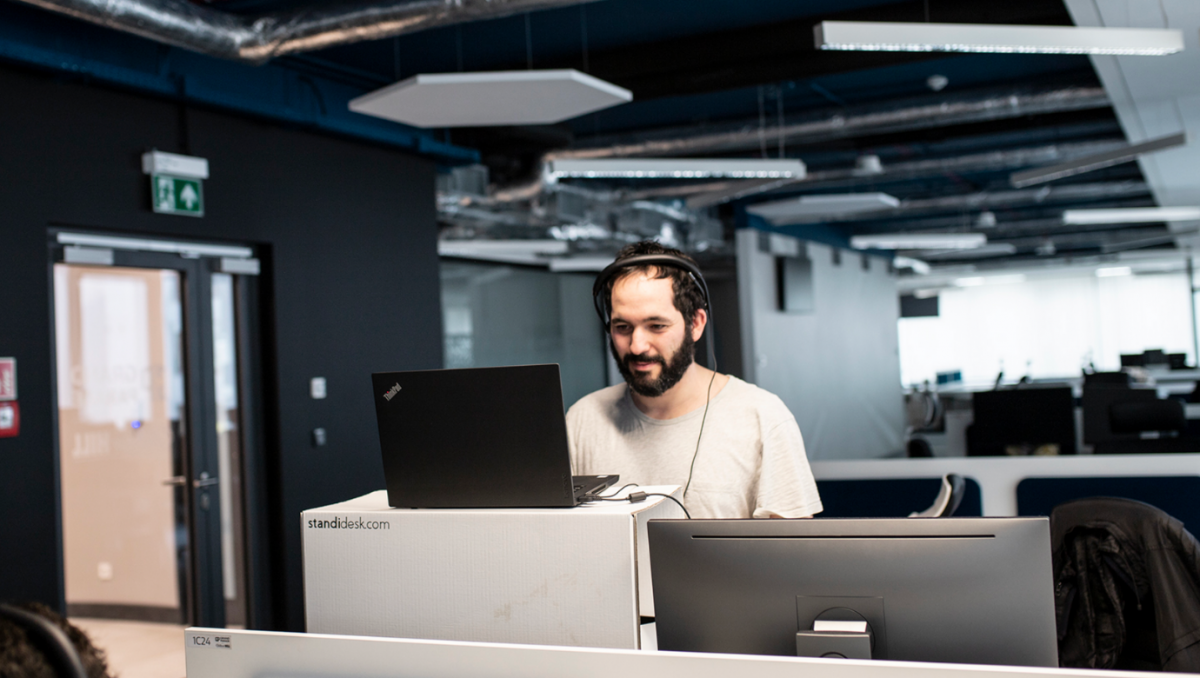 We went behind the bet with Jose Ferreira (or actually Jose Filipe Sousa Duran Ferreira) - Junior Security Developer in Krakow Office. Jose is a great example of how to progress and manage career within the company - started in IT Helpdesk, moved to End User Computing Analyst role and now he's a developer in InfoSec Team. Check out his career story!
My full name is José Filipe de Sousa Duran Ferreira and I am from Porto, Portugal.
It has been almost 6 years that I'm in Krakow. I first studied sports because I wanted to become a football player and then, after an injury, I went for informatics, specifically game design. I came to Poland in search of a job since it was difficult in Portugal to get one. My hobbies are playing and creating video games, cooking and more recently Lego :)
Tell us about your role and what it involves?
I'm Junior Security Developer and together with my team members we create and improve applications to be incorporated into the pipeline to ensure that the process of creating and deploying products is in line with security standards.
What excites you about tech at William Hill?
To be honest, it is not tech that excites me the most, but the people who I had and have the pleasure to work with. For most of the time, I was helping in solving many of your technical issues, which allowed me to have the pleasure of getting to know most of you.
Which projects are you most proud of that you've worked on here?
I can say that I'm proud of all the work I've been doing since I arrived at GP.
I'm proud that I could help everyone to move to the new office, to create and improve the system for EUC team keeping track of all hardware, the same system that is now currently being used. I was also involved in the creation of Creative Rights and later passed it on to Pedro Gordillo. Currently, I'm also proud of being able to help with the Appsec team apps.
How do you go one better every day?
Currently, as a Junior, the way I'm going one better is by learning as much as I can and still helping the team to deliver.
Can you tell us a bit about your career story?
My career story started in Portugal as an aircraft cleaner. Then, in 2014, I moved to Krakow to take care of easyJet customers. From there in 2015 I moved to IT Helpdesk and stayed there for 2 years until I decided that I wanted to progress with my career. So I applied for a 3-month contract in GP to help everyone move to the new Office. I gave up a stable job for a 3-month contract and I can tell that was a great risk because at the end of 3 months of hard work l managed to get a permanent contract as a EUC member together with Piotr Karkus and Artur Cempura. I want to give a big shout out to them, especially to Artur who helped me to improve myself to a point that I could apply for my current role. I also want to give huge thanks to Szymon and Ederson for the opportunity given to me.
What made you decide to move to Krakow?
Work and a girlfriend, but what really made me stay was and still is, great people and above all my wife and our daughter.
What's the best thing about living in Krakow? 
I love that it is not so crazy as other big cities. It reminds me of Porto and I can move everywhere I want by bike, bus or tram.
If we had just one day in Krakow what should we not miss?
Try to get the most of the city tours and all the cultural aspects that come with them.
If you could give one piece of advice to people looking to live in Krakow what would it be?
Get to know all the beautiful places in Krakow, enjoy the parties and the people. If you want to stay for a longer time, buy a house and get to know Poland, the Polish food and traditions